Your Trusted Tile and Grout Cleaning Experts in Claremont!
At Perth Tile & Grout Cleaning, we understand the importance of clean and well-maintained tiles and grout for the overall appearance and hygiene of your space. We take pride in providing top-notch tile and grout cleaning services in Claremont and the surrounding areas. With our team of skilled professionals and state-of-the-art equipment, we are committed to revitalizing your floors and surfaces, leaving them sparkling and looking as good as new.
Our Services
Tile Cleaning: Our specialized tile cleaning services cater to various tile types, including ceramic, porcelain, natural stone, and more. We effectively remove dirt, grime, and stains, restoring the natural beauty of your tiles.
Grout Cleaning: Our thorough grout cleaning process eliminates deep-seated dirt and discoloration from grout lines, giving your floors a fresh and revitalized look.
Grout Sealing: To protect your newly cleaned grout lines and prevent future staining, we offer professional grout sealing services, ensuring a longer-lasting clean.
Benefits of Our Professional Tile and Grout Cleaning:
Enhanced Aesthetics: Our cleaning services will breathe new life into your tiles and grout, enhancing the overall aesthetics of your space and making it more inviting.
Improved Hygiene: Deep cleaning eliminates bacteria, mold, and allergens from your tiles and grout, providing a healthier and hygienic environment for you and your family.
Extended Tile Life: Regular professional tile cleaning can prolong the life of your tiles, preventing premature wear and tear and saving you money on costly replacements.
Time and Effort Savings: Let our experts handle the cleaning while you enjoy the results. Our efficient services save you time and effort, allowing you to focus on what matters most to you.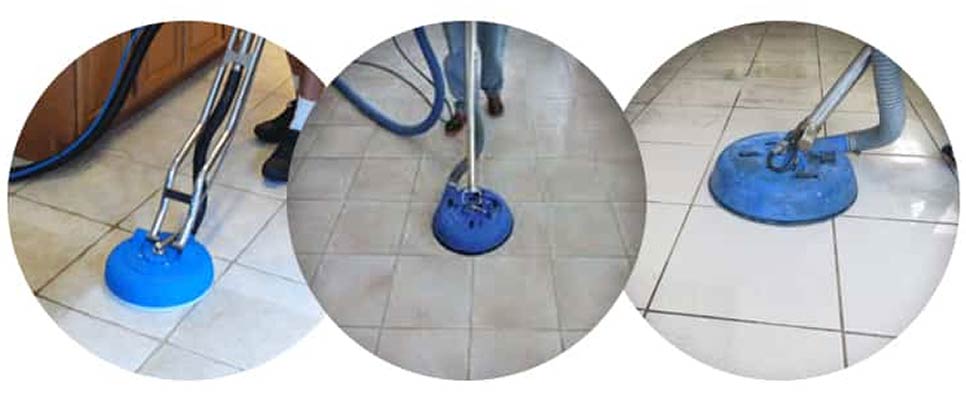 Why Choose Us
Experience and Expertise: With years of experience in the industry, we have honed our skills and techniques to deliver exceptional cleaning results.
Advanced Equipment: Our state-of-the-art equipment ensures thorough and efficient cleaning, leaving no dirt or grime behind.
Eco-Friendly Approach: We use environmentally friendly cleaning products that are safe for you, your family, and the environment.
Customer Satisfaction: Customer satisfaction is our top priority. We are dedicated to providing outstanding service that exceeds your expectations.
Our Process
Inspection: We begin with a detailed inspection of your tiles and grout to assess their condition and determine the most suitable cleaning approach.
Pre-Treatment: Stubborn stains and dirt are pre-treated with specialized solutions to facilitate easier removal during the cleaning process.
High-Pressure Cleaning: Our powerful high-pressure cleaning equipment effectively cleans tiles and grout, leaving them spotless and fresh.
Grout Sealing: If requested, we apply a premium grout sealer to protect your grout and maintain its pristine condition for longer.
Transform your tiles and grout with the expertise of Perth Tile & Grout Cleaning
Contact us today at 08 7665 8905 to schedule an appointment and discover the difference of professional tile and grout cleaning in Claremont!